{newsletter}
Weather
Wed 5 / 13
Thu 9 / 16
Fri 7 / 14

SloveniaHolidays.com > Bela krajina


Bela krajina
Presentation of the destination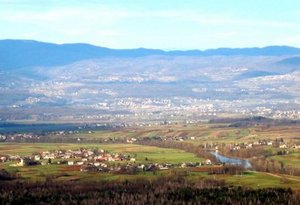 Bela Krajina
Bela krajina (White Carniola) is a region of Slovenia that you really shouldn't miss. Located in the south east of the country, it has a different look and feel to other parts of Slovenia. White Carniola offers you a warm welcome with an open and relaxed way of life. There are plenty of natural and cultural attractions worth seeing and the friendly locals will make sure that each visitor really feels at home here! The icing on the cake for visitors to this region is the stunning river Kolpa, where you can enjoy many water sports activities or just relax and take a gentle dip – the Bela Krajina region will certainly freshen up your holiday!
It's best to explore Bela Krajina by car to see all the attractions the region has to offer. As soon as I started my trip, I noticed there is much more to this place than written in the various travel guides.

When you arrive in the southeastern part of Slovenia you notice immediately the picturesque and natural landscape covered in birch and silver birch trees, (which explains the »White« in White Carniola!) – and of course the local vineyards.
A must for tourists coming here is Črnomelj, the biggest town in Bela krajina. It is the logistical centre of the region, which makes it a perfect starting point for various adventures. For example, everyone should find something to excite their tastebuds along the Bela Krajina wine route. You can try the local vintages or visit a vineyard cottage. All along the wine route, tourists can find accommodation options,great local inns and cafés. Unfortunately, I missed the best known Črnomelj attraction, in fact the biggest folklore festival in Slovenia, known as Jurjevanje, but this town has much more to offer than one event. Črnomelj has a rich history and nowadays visitors can stroll around the beautiful old town centre, guarded by a great medieval castle. While exploring Črnomelj, I also found the "Primožič House" (Primožičeva hiša), where several fascinating exhibits depict everyday life and the work of local craftsmen.
You can admire Bela krajina's natural attractions pretty much every step of the way, but there are also plenty of interesting cultural places to be found in one of Slovenia's most beautiful regions. An excellent place to visit would be the hamlet of Vinica, not far from the Croatian border, where the famous poet and writer Oton Župančič was born – there is a lovely museum collection in the very house where he was born. Another museum collection for Župančič can be found in the village of Dragatuš, where the poet spent his childhood years (you can explore the path between these two villages, known as the "Žuapančič path"). And why not combine this visit with a trip to the Landscape Park Lahinja near Dragatuš? This area is not short of natural attractions and you can experience many of nature's wonders while exploring the lovely countryside. Near Črnomelj, for example, at the spring of the river Jelševnik, you can also find the black cave salamander, a lesser known subspecies of the proteus,(human fish).

If you want to combine exploring nature with some relaxing downtime, then a visit to the Kolpa river, which is one of the most beautiful and pleasant rivers in Slovenia, will be the perfect choice for you. A trip to the Kolpa has something for everyone – visitors can just relax on the warm riverbank, cool off in the clear water, or bask in the sun, while others can be more active and try river sports or other fun activities! The Kolpa is a great river for swimming and relaxing, but you should also take advantage of the picturesque environs and take a walk or cycle here, as White Carniola has really great biking and hiking trails.

The next destination on my trip to Bela krajina was Metlika, a town famous for its beautiful vineyards, stunning castle and even it's local Firemen! Although, the annual cultural & wine festival, called the Vinska Vigred, takes place in May, the town still has a lot to offer throughout the year – I would recommend a visit to the Metlika castle and the Museum of Bela krajina, where you can see an extensive collection of everyday objects from the lives of locals and the customs of Bela Krajina, dating from prehistoric times to today. Next to the Metlika castle, there is a beautiful old town centre and much for tourists to do. The area around Metlika offers travelers several other possibilities to either relax or be active in nature. The landscape is perfect for taking walks – for example you can hike, cycle or ride a horse in the rolling hills of Gorjanci and Gače and explore the area. There are great bike paths and if you like walking or cycling in beautiful nature and having a great time by the water, then Bela Krajina with its refreshing river Kolpa is the perfect place for you!

Bela krajina is the perfect destination to go for a short holiday – you will have plenty of natural and cultural attractions to visit and plenty of accommodation options, but please take note that all these wonders are quite a way apart, so we recommend you plan your trip, accomodation and transport beforehand.
Bela krajina tourism:
More Info:
Sloveniaholidays recommends
---