{newsletter}
Weather
Wed -2 / 6
Thu 0 / 5
Fri 4 / 10
SloveniaHolidays.com > Kranjska Gora


Kranjska Gora
Presentation of the location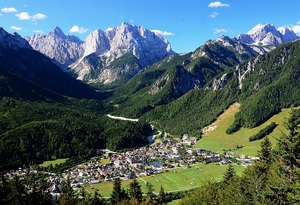 Kranjska Gora
Kranjska Gora is at the centre of the beautiful Upper Sava Alpine Valley. It is the world famous host of Alpine Skiing World Cups and ski jumping on the Planica giant run. When the sun melts the snow on the stunning Kranjska Gora mountains, they are transformed into a paradise for climbers and hikers. Adrenaline junkies can also try water sports, cycling or horseback riding.

Kranjska Gora is one of the most important and modern tourist centres in Slovenia and is surrounded by the most beautiful mountain peaks in the Upper Valley of the river Sava. There are plenty of natural and cultural attractions to visit around here. If you want to try different sports, explore Slovenian heritage, go out and have fun or simply relax at a spa resort, then Kranjska Gora has got it all! If you have little ones, they will have a great time trying all the fun kids activities the town has to offer. Kranjska Gora is best known for its breathtakingly beautiful nature, the annual FIS Ski Jumping World Cup in Planica and the FIS Alpine Ski World Cups at nearby Vitranc.
Decent hiking shoes are advised to get the best from your visit here. We decided to head to Kranjska Gora. We were immediately impressed with the town and the beautiful mountain peaks and towering green forests surrounding it. We were enchanted by the lovely fresh air and smells of mountains and woods . With a wide and varied choice of hotels and other tourist accommodation we are sure you can find the perfect place to help you enjoy your stay in Kranjska Gora.
After taking in the magnificent views and fresh mountain air, we decided to head towards the old town centre and visit the beautiful Gothic period Church of the Assumption of Virgin Mary, which was built in 1510.
As we are fans of the stories and adventures of Kekec, the next location on our list was the 300 year old Liznjekova house in the very heart of Kranjska Gora. In its heyday this Liznjekova house was an example of the most advanced architecture in Slovenia and nowadays portrays the prototype for a proper Slovene farmhouse. It's fascinating that this building has not changed a bit over the years. It still has a black (open fireplace) kitchen and the same room layout. It hosts a cultural museum collection and a permanent exhibition of the life and work of Mr. Josip Vandot, the author of the popular children's stories about the young shepherd boy Kekec. Children are especially excited about this part of the exhibition, but adults, who got to know Kekec through movies as kids, also have a great time here.
For all families with children, a visit to Kekec Land is a must if staying in Kranjska Gora. Admission is restricted to children from the ages of 3 to 10. They get to enter the adventurous world of Kekec and his companions, the wicked Bedanc, his mysterious aunt Pehta, the wise Vitranc, the friendly and gentle Mojca and the fearful Rozle, so in the meantime parents are free to try the culinary delights of Kranjska Gora. Kekec will entertain your kids, prepare a traditional sour milk and corn mush meal for them, allow them a sneak-peak inside his hut and tell them great stories from a long, long time ago. They learn about the heroes in his stories and hear the unforgetable adventures of this famous shepherd boy, tales which you will probably have to listen to for quite some time!
After our kids returned from the exciting Kekec Land, our next destination was the nearby village of Gozd Martuljek. In Gozd Martuljek all the little ones can visit the Land of Dwarfs – if they can find it, because you need to look very carefully and follow all the signs and clues left by the little people to uncover the secret path that leads kids to the magical Land of Dwarfs. While enjoying your time in Gozd Martuljek, a walk to the Martuljek waterfalls and the Martuljek gorge is also a great choice.
Because we still had some time left after our lovely visit to Gozd Martuljek, we decided to drive via the Russian road up to the mountain pass of Vršič, which is a great starting point for many hiking trips or easy family walks. On top of the pass you can find the well-known Russian Chapel, an Orthodox chapel, erected in memory of the suffering and deaths of thousands of Russian prisoners during World War I. There are also several mountain huts which offer great local food and have fantastic views across the Alpine landscape.
We were tempted to visit another local legend on our way back from the mountain pass of Vršič. We decided to visit the Heathen Maiden (Ajdovska deklica), a magnificent rock formation resembling a girl's face. But Mother Nature did not only form a young girl's face in the rocks, she also created a large mountain window nearby called the Prisank window, which is the best-known naturally formed mountain window in the entire Julian Alps and really worth seeing.
After a long and eventful day we headed back home and decided we will definitely return to Kranjska Gora again, although it would probably be best to stay over next time and take advantage of the many hotel deals. The town has so much to offer that a one-day trip to Kranjska Gora is just not long enough. There are so many activities available if we decided to spend a couple more days in Kranjska Gora – from hiking trips, great cycling routes to lesser known but still beautiful natural and cultural attractions. Kranjska Gora is the perfect »getaway« not only for families but also for couples and individuals, to have some fun, do sports and relax in breathtaking nature.
---
---

Holidays in Slovenia - TRIGLAV NATIONAL PARK

Are you looking for an unforgettable vacation that is so perfect for you that you will be talking about it for years?
Triglav National Park is a special, magical place, located in Slovenia. According to the newspaper The Guardian is one of the ten most beautiful national parks of Europe.

Diversity that you will experience in the Triglav National Park cannot be found anywhere else, and almost on every step you will be surprised beyond of your expectation.

Given the diversity of Triglav National Park and foremost because of our personalized program that is tailored specifically for you, here you will experience a holiday which will be remembered for years.


Sloveniaholidays recommends
---