{newsletter}
Weather
Wed 5 / 13
Thu 9 / 16
Fri 7 / 14

SloveniaHolidays.com > Soča Valley


Soča Valley
Presentation of the destination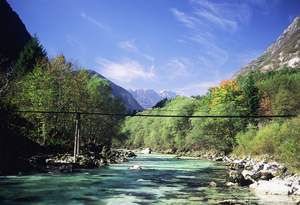 Soča Valley
The Soča Valley is a region of European significance and a junction between nature and culture. For many, the Soča river is the most beautiful alpine river in Europe. On its journey, the river flows over rocky slopes and forms lovely waterfalls, carves magnificent narrow gorges and slides over a stunning white pebble riverbed. Its beautiful emerald green color will take your breath away. Soča is not only the most popular Slovenian river for rafting, hydrospeedand canyoning adventures, but also for kayakers and canoeists.

You can hike the Walk of Peace trail, dedicated to the many victims of the First World War, which links the history and horrors of the Isonzo Front with the natural attractions in the Upper Soča region (Zgornje Posočje). At the Kluže fortress for example, you can experience the exquisite heritage of this area, dress up in military costume and become the castle guard!

The entire region is named after the town of Tolmin, which is located at the meeting of the Tolminka and Soča rivers. In a geographical sense, the region is very interesting, as in the past, it was carved out by several massive glaciers and rivers. The Tolmin river basins are where waterfalls are hidden in mountain gorges and where beautiful Alpine villages on sunny mountain terraces below mighty peaks are waiting for you to find them and are terrific for exploring, hiking and enjoying nature.

Kobarid, which is the military history site of the successful breakthrough of the World War One Isonzo Front, also known as the "Wonder of Kobarid", is a pretty village at the foot of the Alps.
Most na Soči is located on a rocky crest above the meeting of the Soča and Idrijca rivers. In days gone by these two mighty riverbeds provided excellent protection from intruders, carved deeply into the rocky slopes.


Sloveniaholidays recommends
---