SloveniaHolidays.com > Activities > Zelena


Zelena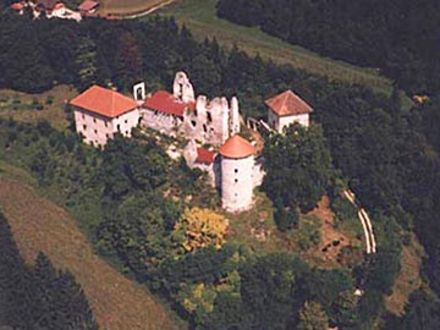 ---
Starting point: Trebnje
Path length :
30.0 km
Time:
00:00:00
Difficulty:
Medium
Ground:
Asphalt
---
Description of path
This route begins in Trebnje. Get on your bicycle and ride in the direction of Žužemberk. At the intersection in Štefan, turn right in the direction of Čatež. You will reach Velika Loka, where you should ride forward and, upon reaching another intersection, turn right toward Čatež. A slow ascent follows.

After the ascent, you will find an asphalt road that heads left and reaches Čatež after about 800 meters. By the sign marking the end of Čatež, turn left onto a paved road toward Gabrovka.

In the valley, you can turn right onto the Obolnar tourist farm (which offers a pool and a volleyball court), but otherwise continue and after about 300m turn right by the first house. A moderate ascent follows. Continuing down an asphalt road, you should reach Cirnik. At this point, you will encounter a rather difficult descent. After about 800m, you should reach the main road. Continue along the main road in the direction of Trebnje, Gomila and Dol. The route ends back in Trebnje.
---
1 Trebnje Gallery of naive art
3 parish church of St. Mary Ascension in Trebnje
2 Trebnje castle (home to Friderik Baraga in the years 1799 and 1812)
35 Mala Loka castle
7 pilgrimage church of St. Mary on Zaplaz
16 old town centre of Mirna
8 bridges of Mirna valley (Migolica, Mirna - below the castle, Mirna - the town, Bistrica, Hrastovica)
9 »Sleeping beauty« castle of Mirna
11 parish church of St. John the Baptist in Mirna
10 Sandi Leskovec studio in Mirna
28 an excellent view of Kum, Gorjance and Snežnik from Zaplaz
29 very close to the Zaplaz church is Mary spring, »the blessed spring«, believed by some to have healing powers
30 »razhodnja«, part of the traditional Levstik way
31 the valley of the Dušica river, where you can see traditional mills
22 valley of the Mirna river
Trebnje
Warning
The author of these pages takes no responsibility for the described cycle routes or for the accuracy of the data. We have presented the cycle routes to the best of our ability, but the cyclist and the maintainer of the route are ultimately responsible for the safety of the trip.