SloveniaHolidays.com > Activities > Z Gorenjske na maraton češenj


Z Gorenjske na maraton češenj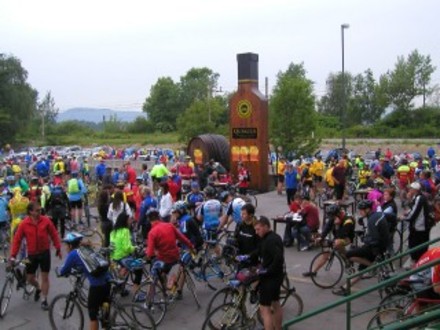 ---
Starting point: Lesce
Path length :
248.0 km
Time:
11:00:00
Difficulty:
Hard
Ground:
Asphalt
---
Description of path
Make your way to Ljubljana from Lesce along the route »Quickly to Grosuplje«. At the end of Celovška cesta, turn right. Follow the cycling path to Tržaška cesta and onward to Tržaška 132, where the marathon of cherries begins: START Ljubljana - Vrhnika - Logatec - Kalce - Godovič - Črni vrh - Strmec - Col - Ajdovščina (rest) - Nova Gorica - Solkan - Podsabotin – FINISH DOBROVO Wine cellar 'Goriška Brda' After the marathon, cross the Reka river and go straight through Višnjevik. At the end of the main road, turn left toward Plave. After crossing the railroad tracks, head forward along the right bank of the Soča river. If you want to continue by train, you'll soon see a road leading to the Plave railroad station on your left. Cycle past the Plave hydroelectric power plant and the Anhovo cement factory. Follow the Nova Gorica – Tolmin main road until you reach the intersection with the road to Selo pri Volčah. Turn right there and follow the narrow asphalt road to Most na Soči. Continue along the main road to Podbrdo, the auto train's only stop on the Most na Soči – Bohinjska Bistrica route. Ride the auto train through the tunnel to Bohinjska Bistrica, then cycle along the main road to Bled and Lesce.
---
In early June, the Goriška Brda wine cellar organizes the cycling marathon of cherries along te route LJUBLJANA - ČRNI VRH - AJDOVŠČINA - DOBROVO (108 km). Transportation back to Ljubljana by bus is provided. Participants from the Gorenjska region can use the Nova Gorica – Jesenice train or the Most na Soči - Podbrdo - Boh. Bistrica auto train.
Lesce - Ljubljana - Ajdovščina - Dobrovo v Brdih - Podbrdo
Warning
The author of these pages takes no responsibility for the described cycle routes or for the accuracy of the data. We have presented the cycle routes to the best of our ability, but the cyclist and the maintainer of the route are ultimately responsible for the safety of the trip.