{newsletter}
Weather
Wed -2 / 6
Thu 0 / 5
Fri 4 / 10
SloveniaHolidays.com > Places


Places
About Slovenia
The country on the edge of the Julian Alps and the Adriatic Sea, closely neighbouring to Italy, with a powerful German tradition in the North and an echo of the Slav South and East, opening widely towards the broad Pannonian Plain and persistently overcoming the first slopes of the Dinaric Mountains – this all is Slovenia.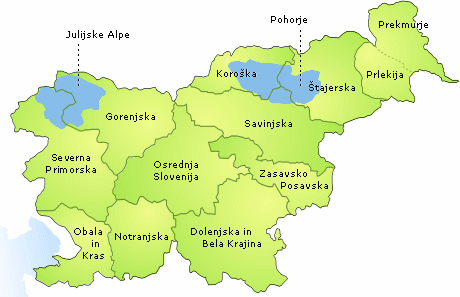 The land on the junction of Slav, Germanic and Roman cultures. Excitingly different, and yet so homely. A variety of interesting specialities characterises the Slovenian landscape in a distinctive way. Into the mosaic of this part of Central Europe nature placed mighty Alpine peaks, the deepest karst precipices, steep walls and soft curved mountains, the most beautiful of lakes, the most unusual karst formations, precious vegetal and animal species, numerous purling brooks, rivers and waterfalls, broad sunny plains, the timeless and peaceful woods and a warm sea wave. Slovenia is beautiful in the icy decoration of the winter, playful in the blossoming spring and in the warm high summer; it is wonderful when the autumn months colour its landscape.

Its heterogeneous nature inspired many Slovenian artists – architects, painters, musicians, poets and writers, who gave a priceless contribution to Slovenian cultural inheritance. The landscape exhibits on each step the rhythm of the native brogue, its culture and identity. The richness of the culinary heritage, the hospitality, kindness and attention of the natives guarantee a pleasant stay.
Sloveniaholidays recommends
---