SloveniaHolidays.com > Activities > Hitro v Grosuplje


Hitro v Grosuplje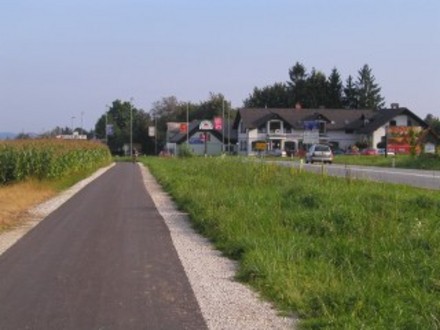 ---
Starting point: Lesce
Path length :
69.0 km
Time:
02:30:00
Difficulty:
Easy
Ground:
Asphalt
---
Description of path
Start in Lesce and cycle to Radovljica. Pass the main bus station, then turn right and pass the police station. The major road ends at an intersection where you should continue straight forward. You'll soon reach a main road that you should follow to Podvin. Turn right there. When the road forks in front of the church, take the right fork to the intersection where the wooden signpost will direct you left to Graben. The road crosses a stream and joins the Črnivec - Posavec – Kranj road which you should follow to Naklo. There, turn left behind the gas station onto a narrow asphalt road that leads all the way to Kranj. Behind the gas station in Kranj, turn onto a walking path, cross an intersection with a traffic light and continue to the main bus station. Turn right there, pass the police station and turn left. At the end, go right and then straight to the old city center. Turn left in the center and cross the bridge over the Kokra river. Turn right on the other side of the bridge and follow the major road straight to Tacen. Turn right over the Sava river and continue forward to the second traffic light (after a short ascent). Turn right and then left after the railroad underpass. The road continues with a cycling path underneath the freeway. First, take Prušnikova cesta to Celovška. Follow the cycling path along Celovška cesta and then Gosposvetska cesta. Cross Slovenska cesta, turn right at the end of Dalmatinova and then left onto Trubarjeva cesta. Turn right onto Kopitarjeva and cross the Dragon bridge. Just before the tunnel, go left across the pedestrian crossing (turning left is forbidden). Follow Streljska ulica straight to Roška, where you should turn right to Karlovška cesta and turn left onto Dolenjska cesta. You can follow it from Ljubljana directly to Škofljica. There, first turn right toward Kočevje, then immediately turn left in the direction of Šmarje-Sap. Turn right at the end of Cikava and you'll reach Grosuplje.
---
The route leads along roads that allow you to reach the destination in Grosuplje as quickly as possible. Ljubljana, Škofljica and Grosuplje can serve as starting points for more attractive routes.
Lesce - Kranj - Ljubljana - Škofljica - Grosuplje
Warning
The author of these pages takes no responsibility for the described cycle routes or for the accuracy of the data. We have presented the cycle routes to the best of our ability, but the cyclist and the maintainer of the route are ultimately responsible for the safety of the trip.