SloveniaHolidays.com > Activities > Blekova planina


Blekova planina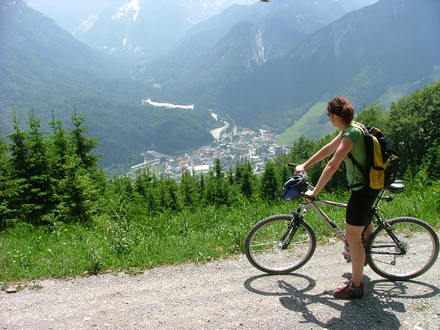 ---
Starting point: Kranjska Gora ali Podkoren - na cesti proti prelazu Korenjsko sedlo
Path length :
22.0 km
Time:
02:00:00
Difficulty:
Medium
Ground:
Macadam
---
Description of path
Most cyclists start the route in Kranjska Gora or Gozd Martuljek, but we began a little higher since we were tired from the previous day's labours and the unbearable heat. This avoids the hot ascent up the asphalt road toward the mountain pass. We started at the right macadamized road branch toward the Korensko sedlo border crossing. For the first twenty minutes, the well-maintained road slowly ascends through the thick forest. Then the ascent becomes a little steeper. Every now and then you'll get a beautiful view: first of Podkoren and Kranjska Gora, then the entire Špik group of the Julian Alps. The route is easy to navigate, since you'll constantly be cycling along the main road and there are few other roads. Go through two wooden gates and close them behind you. Once you make it to the end of the winding road above Jureževa planina, the ascent ends for a while. The road only rises a few times until the road to Blekova planina. The trough by the wooden gate also provides an opportunity to refill your water bottle. Soon after the trough, you'll reach a road leading left and uphill toward our destination. The final ascent is fairly steep, but the beautiful view from the plateau is definitely worth it. The lodge is an ideal place to rest and relax before the descent. The descent begins with a nice stretch of gravel road along the plateau back to the macadamized road. Here, you can go left from the plateau toward Železnica, turn right just before the road begins to ascend and follow the path by the Jerman stream. In the beginning, the descent along the gravel road is very difficult, but it becomes easier later. You'll also pass an abandoned sawmill that was apparently shut down in the middle of cutting up a log. Eventually you'll reach Srednji vrh, an extremely beautiful village above the valley. From here, descend down the asphalt road to Gozd Martuljek and follow the cycling trail to Kranjska Gora. Alternatively, you can go back the way you came.
---
A very beautiful, moderately difficult route with incredible views of the Julian Alps, especially the Špik group. Recommended in good weather with high cloud bases.
Kranjska Gora
Warning
The author of these pages takes no responsibility for the described cycle routes or for the accuracy of the data. We have presented the cycle routes to the best of our ability, but the cyclist and the maintainer of the route are ultimately responsible for the safety of the trip.