SloveniaHolidays.com > Activities > Zagorje


Zagorje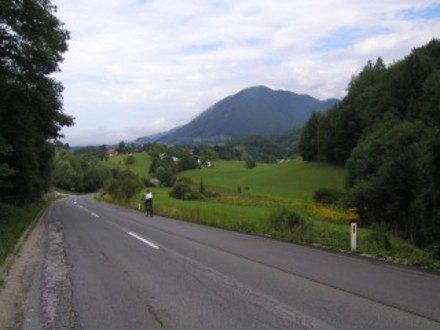 ---
Starting point: Lesce
Path length :
207.0 km
Time:
08:30:00
Difficulty:
Hard
Ground:
Asphalt
---
Description of path
From Lesce, cycle through Radovljica, Podvin, Mošnje, Posavec and Naklo to Polica. At the traffic light, turn left and continue through Kokrica past the Brdo castle to Britof. At the traffic light, turn left in the direction of Jezersko. In Visoko, turn right toward Cerklje. Once you reach the end of Cerklje, turn left toward Poženik. Turn right at the beginning of Poženik, then left at the next intersection. Turn left in Zalog and cycle to Komenda. There, turn left at the beginning and follow the major road to Križ. You'll reach the main road, where you should turn left to Kamnik. There, follow the signposts in the direction of Celje and Tuhinjska dolina. Turn right off the main road for a short while and pass through Motnik. Just before Ločica, turn right toward Trojane. Head straight toward Trojane at the intersection where you can see a highway on-ramp on the right and the new road toward Izlake on the left. At the top of the incline, turn left in the direct of Zagorje. Along the way, you can refresh yourself with the famous Trojane doughnuts. Turn left when a road branches off toward Čemšenik and continue along the panoramic road through Čemšenik, then descend toward Zagorje. At the intersection by Europark Zagorje, turn left toward Trbovlje (there is a shortcut to Zagorje on the right). Turn righ at the intersection in Trbovlje, then right again beyond the bridge over the Sava river. The first road on the right leads to Zagorje. Follow the route »Ascent to Zasavska Sv. Gora« (Zagorje, Čolnišče, Kal, Šentlambert, Brezovica, lodge atop Zasavska gora). When descending from Zasavska gora, turn left at the first intersection and cycle through Razpotje and Podkraj. Once you cross the Kandrščica river, turn left and follow the main road through Moravče and Dob to Domžale. In Domžale, turn right in the direction of Kamnik. At the first traffic light in Rodica, turn left across the railroad tracks in the direction of Mengeš. In Mengeš, first turn right, then left toward Kranj. Follow the main road through Moste, past Brnik airport and straight through Kranj to the crossroads where you should turn right in the direction of Jesenice. Once you reach Polica, follow the road back to the starting point.
---
In early August, the Zagorska dolina cycling club organizes an ascent to Zasavska Sv. Gora as part of Zagorje's municipal holiday festivities. The route: Zagorje, Čolnišče, Kal, Šentlambert, Brezovica, lodge atop Zasavska gora.
Lesce - Cerklje na Gorenjskem - Motnik - Trojane - Zagorje ob Savi
Warning
The author of these pages takes no responsibility for the described cycle routes or for the accuracy of the data. We have presented the cycle routes to the best of our ability, but the cyclist and the maintainer of the route are ultimately responsible for the safety of the trip.