{newsletter}
Weather
Thu 0 / 4
Fri 5 / 12
Sat 8 / 1
SloveniaHolidays.com > Vipava valley


Vipava valley
Presentation of the location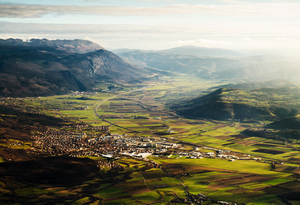 Vipava Valley

The Vipava Valley lies in a unique spot on the western edge of Slovenia, a stone's throw from the Italian border, half an hour from the Gulf of Trieste and less than an hour to the Julian Alps, placing it quite truly in the heart of one of Europe's most picturesque regions.
Diverse worlds, ways of life, cultures, climates, and geological formations intersect in the Vipava Valley. The Valley's nature is so diverse and picturesque it simply calls for exploration.
Here you can find a winegrowing district which attracts visitiors with its numerous natural landmarks and quality wines.
The best thing about Vipava Valley's cuisine are its locally sourced ingredients, always seasonal and garden-fresh according to respected tradition.
The colourful landscape of the Vipava Valley excited every hiker, although cyclists like to say that the Vipava Valley, with all there is to see, is best experienced on two wheels. The Valley and the sloping hills surrounding it form a true paradise for paragliders and hang-gliders.
If different is what you're looking for, Vipava Valley is the place to see. All year round.

Information:
TIC Ajdovščina
Cesta IV. Prekomorske 61 a
5270 Ajdovščina
t: +386 5 365 91 40
m: +386 31 355 110
ajdovscina@vipavskadolina.si
www.vipavskadolina.si



Sloveniaholidays recommends
---