SloveniaHolidays.com > Activities > Valvasorjev dom pod Stolom


Valvasorjev dom pod Stolom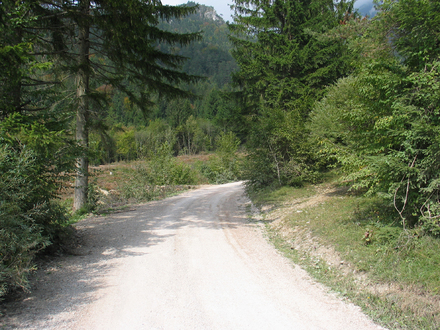 ---
Starting point: Žirovnica
Path length :
5.0 km
Time:
01:30:00
Difficulty:
Very hard
Ground:
Macadam
---
Description of path
An excellent route for everyone who likes to cycle along macadam. Start in Žirovnica and continue past the Lovski dom Stol restaurant. Although the road to the restaurant is asphalted, the macadam begins just beyond it. Turn left at the first crossroads as indicated by the signpost for Valvasor's mountain hut beneath Stol. There is a short slope at the beginning, and the ascent continues all the way to the mountain hut and to the top. The macadam is quite good, with only a few rough spots beneath the top.
---
Beware of motor vehicles. A lot of people drive their car all the way to the Valvasor hut, so rapid descents aren't recommended.
Žirovnica
Warning
The author of these pages takes no responsibility for the described cycle routes or for the accuracy of the data. We have presented the cycle routes to the best of our ability, but the cyclist and the maintainer of the route are ultimately responsible for the safety of the trip.