SloveniaHolidays.com > Activities > Mohor


Mohor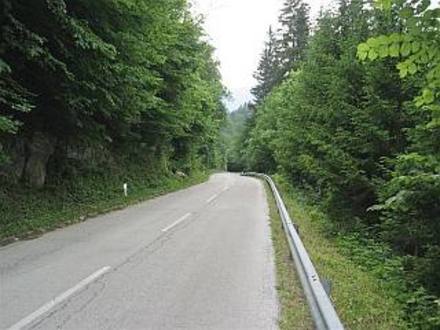 ---
Starting point: Kranj (GPS TREK)
Path length :
31.0 km
Time:
02:00:00
Difficulty:
Hard
Ground:
Asphalt, Macadam
---
Description of path
Begin cycling in Kranj and follow the main road toward Besnica. After about 11 kilometers of easy cycling you'll reach the village Nemilje. Turn left (see the sign for Mohor) up a short slope and follow the left road (signpost for Selca). Soon, you'll reach a macadam road. Follow the winding macadam road for 4 kilometers and you'll reach an asphalt road where you should turn left (signpost for Zabrekve). Cycle along an asphalt road again. Once you reach the first intersection, don't turn right to Zabrekve. Head left toward Mohor instead. Once you reach the first house, turn right onto an ascending gravel road. After 600 meters, you'll reach the church of St. Mohor. Then, descend back toward the houses and go straight through the village along the macadam. The road leads through a forest to an open plateau where the road forks. Take the left road and you'll soon reach another fork. One road goes straight, the second goes downhill to the left. Turn left and follow an excellent road through a forest. After a 2-kilometer descent you'll reach a macadamized road. Turn right and descend slowly to Zgornja Besnica. There, turn back onto the main road and cycle toward Kranj.
---
There is a not especially steep ascent from Nemilje to Sv. Mohor. The descent along the nice, well-maintained road through the forest is also quite interesting. The church of St. Mohor offers a beautiful view of the nearby villages.
Kranj
Warning
The author of these pages takes no responsibility for the described cycle routes or for the accuracy of the data. We have presented the cycle routes to the best of our ability, but the cyclist and the maintainer of the route are ultimately responsible for the safety of the trip.