SloveniaHolidays.com > Activities > Golte - Smrekovec - Golte


Golte - Smrekovec - Golte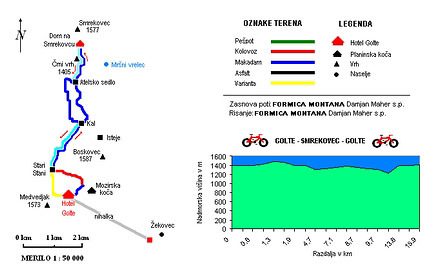 ---
Starting point: Hotel Golte - zgornja postaja nihalke
Path length :
15.0 km
Time:
01:00:00
Difficulty:
Medium
Ground:
Macadam, Cart track
---
Description of path
1 0 km 1410 The route begins at the Golte Hotel, upper station of the lift. M S2P3
2 0.5 1390 Wooden gate, close it behind you! M S2 P3
3 0.6 1385 Turn left, metal gate, close it behind you!K V3-V4 P3
4 1.0 1425 Turn left (road to Boskovec on the right).K V3-V4 P2
5 1.3 1475 Turn right atop the steep slope.K V2 P3
6 1.7 1465 Wooden gate, close it behind you! Lahovnica.K S2 P3
7 1.9 1400 STOP, electrified fence.K V2 P4
8 2.5 1400 Stari Stani. Zavijemo desno.M S2 P4
9 4.7 1305 Right up the slope. M V2 P2
10 4.8 1318 Kal. Turn left at the intersection, signpost for Smrekovec. M V2, S2 P2-3
11 7.1 1345 Left up the slope, see the signpost. M V2 P2-3
7.9 1345 Lodge at Smrekovec. Working hours: every day from 7am to 1pm, Mondays from 6pm to 10pm.P3
12 7.9 1375 Lodge at Smrekovec. M S2 P3
13 8.7 1345 Turn right, following the signpost for Ljubno.M V2 P2
14 9.4 1317 Atelsko sedlo, take the right road at the fork, signpost for Stari Stani.M S2 P3
15 9.7 1305 Turn left, signpost for Stari Stani.K V2-S2 P3-4
16 11.3 1215 Left up the slope, signpost for Golte.M V2 P2
17 13.6 1385 Fork in the road, take the right road.M V2 P4
18 14.0 1400 Stari Stani, return the way you came. The Golte Hotel is 1.94 kilometers away K M S2-V3 S3-V2 P2-4
19 15.9 1410 Hotel Golte, upper station of the lift.M P4-5

OPTION
18 1400 Stari Stani,go straight ahead. K V5 P5
19 1520 STOP, electrified fence.K S3 P5
20 1490 Three wooden fences, STOP, electrified fence. Continue to the left, Medvedjak is on the right. K S3 P5
21 1415 Turn left past the lodge and onward to Hotel Golte. M V2 P3
22 1410 Hotel Golte, upper station of the lift. M P4-5
---
You'll have to get off your bike a few times due to the wooden gates and electrified fences.
Mozirje - Ljubno ob Savinji
Warning
The author of these pages takes no responsibility for the described cycle routes or for the accuracy of the data. We have presented the cycle routes to the best of our ability, but the cyclist and the maintainer of the route are ultimately responsible for the safety of the trip.