SloveniaHolidays.com > Activities > Dolsko – Zagorica - Senožeti


Dolsko – Zagorica - Senožeti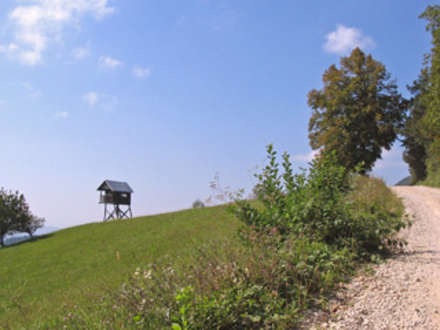 ---
Starting point: Dolsko
Path length :
16.0 km
Time:
01:30:00
Difficulty:
Medium
Ground:
Asphalt, Macadam
---
Description of path
A circular route through the western part of the Posavje hills, a rolling landscape with many opportunities for recreation. Starting at Dolsko, ascend past the church of St. Helena toward Klopce, Zagorica, Križevska vas and Velika vas. The road is asphalted until Zagorica and a mixture of asphalt and macadam from Zagorica to Velika vas. The road from Velika vas to Senožeti (descent) is macadamized. The longest ascent is to Klopce. It is worth mentioning that the famous mathematician Jurij Vega was born in Zagorica in 1754. Today, the Vega memorial room is located in his old house. You'll reach the highest point of the route somewhere near the church of the Holy Cross at Križevska vasa (560 m). You'll have a panoramic view of the Posavje hills during the entire ascent. It is possible to return the way you came or complete the circular route via Senožeti (the descent is quite steep), where you should cross the Sava river, to Jevnica. There, cycle between the Sava and the railroad tracks in the direction of Laze for a few kilometers, In Laze, cross the Sava again on your way to Dolsko.
---
Birth house of Jurij Vega in Zagorica
Dol pri Ljubljani
Warning
The author of these pages takes no responsibility for the described cycle routes or for the accuracy of the data. We have presented the cycle routes to the best of our ability, but the cyclist and the maintainer of the route are ultimately responsible for the safety of the trip.