SloveniaHolidays.com > Activities > Bistra


Bistra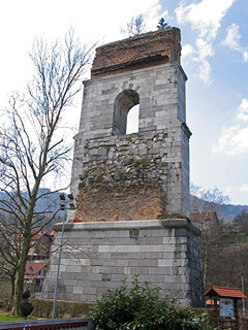 ---
Starting point: Ljubljana-Dolgi most
Path length :
23.0 km
Time:
00:00:00
Difficulty:
Easy
Ground:
Asphalt
---
Description of path
The route begins in Ljubljana at Dolgi most, at the parking lot by Tržaška cesta. Head in the direction of Vrhnika/Brezovica pri Ljubljani and cycle along the well-maintained cycling path next to Tržaška cesta. At the third traffic light (with the restaurant Pri Poku on one side and the Mercator store on the other), cross Tržaška cesta and turn left toward Vnanje Gorice. Take the overpass over the freeway. After crossing the railroad tracks in Vnanje Gorice, turn right toward Notranje Gorice. Cross the railroad tracks again. Once you reach the three-way intersection by the brick marking, turn left toward Jezero and Podpeč. After about 1700 meter of level road, you should reach the bridge over the Ljubljanica river that leads to Podpeč. At the intersection behind the Mercator and in front of the famous Podpeč quarry, turn right toward Borovnica. Pass Kamnik pod Krimom, Goričica pod Krimom, Pako and Breg pri Borovnici on your way to Borovnica, known for the 19th-century viaduct. The viaduct was destroyed during the war in 1941, and only one column (on the Ljubljana side) and the end of the viaduct on the Postojna side remain. To see these remains, you have to leave the route for about 300 meters in the direction of Peklo. Otherwise, continue toward Vrhnika. Cycle along the edge of the Ljubljana moor, past Laze and Dol to Bistra. Today's Technical museum of Slovenia was once an abandoned Carthusian Monastery. Besides the museum, consider visiting the park, garden, restaurant, flour mill and sawmill in Bistra.
---
- Technical museum
- Destroyed viaduct in Borovnica
Borovnica - Ljubljana - Brezovica pri Ljubljani
Warning
The author of these pages takes no responsibility for the described cycle routes or for the accuracy of the data. We have presented the cycle routes to the best of our ability, but the cyclist and the maintainer of the route are ultimately responsible for the safety of the trip.