SloveniaHolidays.com > Activities > Road biking route Savica


Road biking route Savica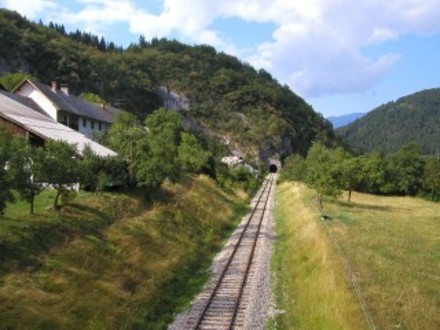 ---
Starting point: Lesce
Path length :
82.0 km
Time:
00:00:00
Difficulty:
Medium
Ground:
Asphalt
---
Description of path
Cycle from Lesce to Bled. Follow the main major road straight past Lake Bled toward Bohinj. When a road branches off toward Bohinjska Bela, turn right. Turn onto the main road toward Bohinj at the end of the village Obrne. At the crossroads, turn right and ride through Soteska. Just before the village Nomenj, turn right onto an asphalt side road. Turn right once again in front of the village bitnje. From Bitnje, turn right toward Jereka. After a short but steep ascent, you should reach Jereka. From here, continue straight through Bohinjska Češnjica, Srednja vas and Stara Fužina to Ribčev Laz. After crossing the Sava Bohinjka, turn right. Cycle along the shore of the lake to Ukanec, then straight to the cottage at Savica where the asphalt road ends. Turn back and return to Ribčev Laz. Go straight through the intersection by the end of the lake. Follow the main road through Bohinjska Bistrica back to Bled and then to Lesce.
Lesce - Bled - Bohinjska Bela - Srednja vas v Bohinju - Bohinjska Bistrica
Warning
The author of these pages takes no responsibility for the described cycle routes or for the accuracy of the data. We have presented the cycle routes to the best of our ability, but the cyclist and the maintainer of the route are ultimately responsible for the safety of the trip.