SloveniaHolidays.com > Activities > Govce


Govce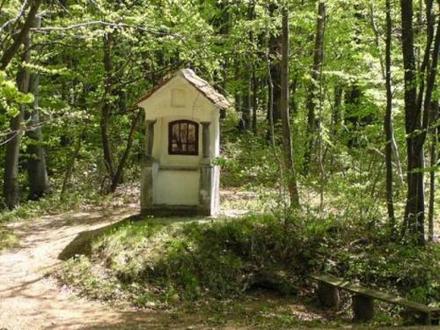 ---
Starting point: TIC Laško
Path length :
16.0 km
Time:
01:00:00
Difficulty:
Hard
Ground:
Asphalt, Macadam, Cart track
---
Description of path
Description of the route: Laško, Kuretno, Govce, Zgornja Rečica, Huda Jama, Spodnja Rečica, Laško.

Starting from the in front of the TIC to cross the railway line and immediately up it goes a steep slope towards the Church of St Mihael. After an ascent of 1.7 km on the top of the hill the asphalted road terminates. On a macadamized road to ride downhill past the plague pillar towards the village of Kuretno to continue at the house No. 9 by a macadamized road past the Church of St Katarina. Arriving to a small chapel and a chestnut-tree to keep straight on – a signpost Govce. To turn right at the next small chapel. From here on, it is to follow the signpost Govce – Lovska koča (Hunting Lodge) at any crossroads. To make sure a consultance by the orientation marks along the road leading you to the hunting lodge and further to Govško brdo is recommended. The Hunting lodge is situated at the elevation of 550 m. An uphill walk to Govško brdo (811 m) would take according to route markings, 45 minutes. From the hunting lodge a cart track leads downhill to a small chapel, where it makes a sharp turn to the left to continue downhill to the Rečica Valley. After a poor 1.5 km of descent, at the three-road-crossing to choose the path on the left in spite of the right one also leading to the valley. Coming downhill to the Rečica stream to cross a small bridge and turn right to an asphalted road in the Laško direction. A gentle descent past the Huda Jama hamlet, Spodnja Rečica and Laško Thermal Spa Resort leads back to the point of departure.

Note: less skilled cyclists are recommended to start their ride from the opposite direction.

Laško
Warning
The author of these pages takes no responsibility for the described cycle routes or for the accuracy of the data. We have presented the cycle routes to the best of our ability, but the cyclist and the maintainer of the route are ultimately responsible for the safety of the trip.