{googleMapModule}
{newsletter}

SloveniaHolidays.com > Divača > Škocjan caves regional park


Škocjan caves regional park
Škocjan 2, 6215 Divača

tel.: 00 386 5 708 21 00, 00 386 5 708 21 10, faks: 00 386 5 708 21 05
---
Škocjan caves regional park - presentation

Škocjan caves regional park - Through the udergound Canyon
The guided tour begins at the Visitors Centre taking you to the man-made passageway in the Globocak Collapse Doline and continues through the Silent Cave (Tiha jama), a fossil passage filled with numerous dripstone formations. Exiting the Cave, you will be enthralled by the view of the underground canyon of the Reka River that you cross on the Cerkvenik Bridge, suspended nearly fifty meters above the riverbed. You can return the surface past Tominc Cave (Tominceva jama) and the waterfall under the natural bridge in the Big Collapse Doline (Velika dolina).

TIMETABLE BY MONTHS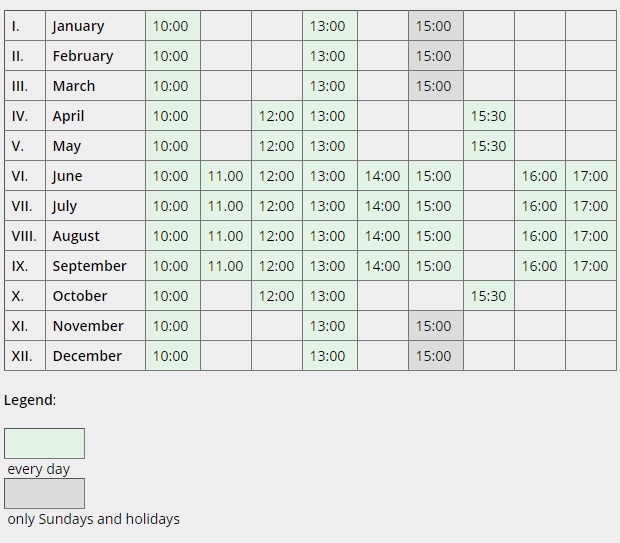 Family discount:
Valid for families with three children aged between 5-15 years. One of the children receives a free entrance ticket to the Škocjan Caves. For each additional child the surcharge is 3,00 EUR. There will be special offers for families visiting in non- peak season.

School groups:
school groups pay the price for children, teachers and group escorts have 1 free ticket for each group of 15 children.

Tourist agencies:
are entitled to a 10-percent discount for organized and pre-arranged groups.

"Organized and pre-arranged groups":
are groups, which are announced at least three days prior to their arrival and include a minimum of 20 persons. Group escorts and every 21st visitor in the group have free entrance.

Surcharges for exceptional visits to the Škocjan Caves:
visits to the Škocjan Caves out of the stated visiting hours or groups wanting individual guidance:
Groups of less than 10 persons pay the entire amount as for a group with the minimum number of 20 persons. Groups of more than 10 persons and less than 30 persons pay double price for the Škocjan Caves visit.
Groups of more than 30 persons pay the regular price and an additional 50% of the price.
Children of up to 5 years of age accompanied by a parent have free entrance to the Škocjan Caves.

Children between the age of 6 to 15 years of age pay the ticket price for children.
Students pay the price for students only if they show a valid student card, seniors pay the price for seniors if they have proof of pension or are over 65 years of age.

Special offers and discounts are offered during the year.

Combinations of different options from this offer are possible.
Škocjan caves regional park Divača.
---
If you like the Škocjan caves regional park, please refer to: