{googleMapModule}
{newsletter}

SloveniaHolidays.com > Miren > Apartments and rooms V mlinu


Apartments and rooms V mlinu
Orehovlje 14, 5291 Miren

tel.: 00 386 5 395 44 90
| | |
| --- | --- |
| | To see the price, please choose your arrival and departure date |
| | To see the price, please choose your arrival and departure date |
| | To see the price, please choose your arrival and departure date |
Guaranteed the lowest price Without additional fees Possibility to change or cancel
---
Apartments and rooms V mlinu - presentation

In the lower Vipava valley, near the border with Italy, lies village Orehovlje. In the attic of the former mill building we have arranged six apartments. The building is located near the dam on the river Vipava.

All apartments also have a look at 60 m long waterfall that falls over the dam, the pool below the dam and the river Vipava. The building is still preserved mill wheel, which is still functional – turns. Noise of the water over the dam operates relaxing and it is suitable for all those who like to relax and live in the middle of nature. Capacity of accommodation is of two and four bed apartments.


There is a common entrance to all apartments. Each apartment is one roomy with bathroom and toilet. One apartment has a veranda, four of them has a window with French balcony. All apartments are equipped with mini-kitchen with dishes, refrigerator, electric stove, hood, sink, air-conditioned cooling and heating, digital TV and wireless internet, table and chairs, double beds or single beds, nightstands, TV box, wardrobe, wall mirror and wall hanger. Two apartments has a sofa bed, too. Bathrooms are equipped with toilet, shower or shower massage, sink, mirror cabinet and hair dryer. Each apartment is furnished in different color: light blue, yellow, light green, bright orange, bright violet and light pink. Near the building is a parking place for six cars. Apartments can be rented as a ''bed&breakfast''. Continental breakfast is ready and the guests themselves are served in the apartment.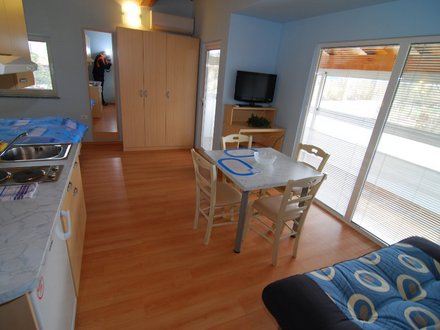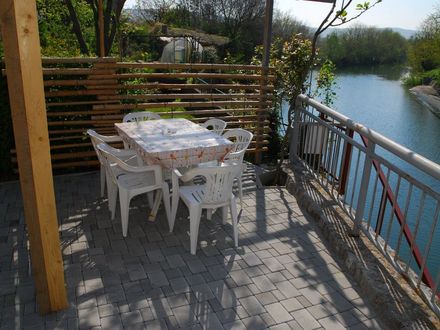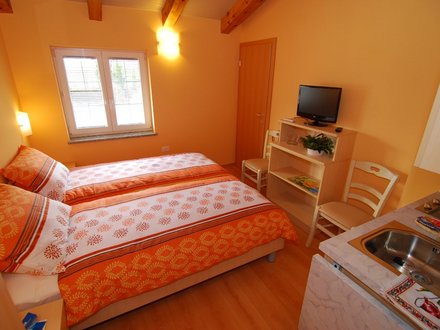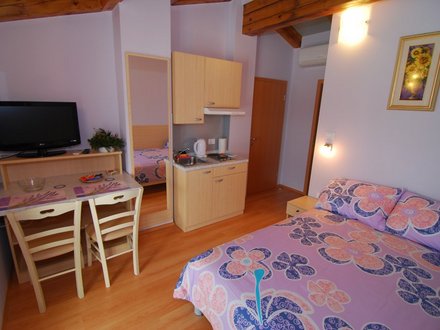 Neighbourding attractions:
- restaurant Makorič at Orehovlje with domestic culinary specialities and wines
- Mirenski grad with a pilgrimage church of Žalostna Mati Božja (Mother of Sorrows) from 13. century
- monument - museum on Cerje
- Nova Gorica – Europa square in front of Railway station
- gambling casinos and entertainment centers at Perla and Park
- Franciscan monastery with the crypt of Bourbons, library of father Stanislav
Škrabec and a garden with a collection of roses 'Burbonke'
- castle Kromberk with a Provincial museum (Goriški muzej)
- Sveta gora (a Holy Mountain) – sacred and pilgrimage center
- Sabotin (mountain) with a Peace park (Park miru) as a reminiscent of events during the First World War
- Solkan - a railway bridge with the bigest stone arch in the world
---
Apartments and rooms V mlinu Miren. Apartments Miren, rooms Miren.
---
Distance to important places
inn 300 m, bus station 400 m, exchange office 1 km, post office 1 km, railway station 5 km, airport Ronchi (I) 33 km, casino 3 km, stores 1 km, gas station 1 km, sports playground 2 km, golf course 5 km
---
Facilities
terrace, parking space, sports equipment storeroom, outdoor terrace, laundry room
---
Offers for children
play area, playground
---
Special Facilities
family-friendly, room slippers for every guest, welcome drink, laundry, ironing, English spoken, Italian spoken, Croatian spoken, possibility of transportation of persons
---
Sports activities
canoe for rent, fishing, cycling
---
If you like the Apartments and rooms V mlinu, please refer to: