{newsletter}
Weather
Wed -2 / 6
Thu 0 / 5
Fri 4 / 10
SloveniaHolidays.com > Bled


Bled
Presentation of the location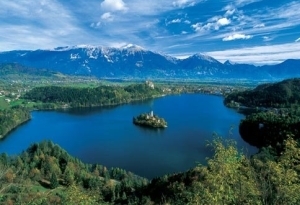 Bled

Bled and its surrounding area is one of the most beautiful Alpine resorts, known for a mild healthy climate and thermal lake water. A picturesque island rises out of the lake, covered by vegetation. Several buildings hide among the plants: a church, a belltower, the provost's house, the chaplain's house and a small hermitage.

Many legends surround the island; one of these legends was used as the basis of one of the greatest works of Slovenia's great poet France Prešeren. Bled is famous for its boatmen, the »pletna« boat ride to the island and the classic local food – the cream slice.

Many other wonders of nature can be found near Bled, including the Vintgar gorge, the Pokljuka gorge and others.

Vintgar
The Bled castle
The Bled lake with an island
---
Bled tourism
---

Holidays in Slovenia - TRIGLAV NATIONAL PARK

Are you looking for an unforgettable vacation that is so perfect for you that you will be talking about it for years?
Triglav National Park is a special, magical place, located in Slovenia. According to the newspaper The Guardian is one of the ten most beautiful national parks of Europe.

Diversity that you will experience in the Triglav National Park cannot be found anywhere else, and almost on every step you will be surprised beyond of your expectation.

Given the diversity of Triglav National Park and foremost because of our personalized program that is tailored specifically for you, here you will experience a holiday which will be remembered for years.


Sloveniaholidays recommends
---