SloveniaHolidays.com > Info > Winter and holidays in Slovenia


Festive December in Ljubljana
Winter and holidays in Slovenia
Anytime you visit Ljubljana, you will find it charming, but like anywhere else, December brings an even more apealing athmosphere. Christmas decorations and the Festive Fair are already set up, so you don't have to wait no longer! On Festive Fair you can find a vast variety of products suitable for giving as gifts and numerous food and drink stalls (well known especially for offering mulled wine – drinking this warm liquid has become a tradition for Ljubljana's locals and visitors in this time of the year). The combination of decorations, special festive athmosphere and charming Ljubljanica banks will not let you down. But that's not all by far! A number of other festive events will also take place in the center of Ljubljana in December and all are more then worth a visit.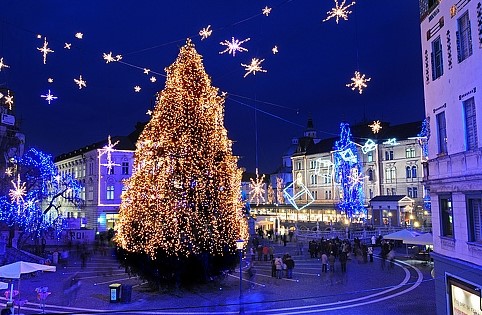 Source: visitljubljana.si
From 18th December to 30th December you can visit the Good Fairy in front of the Town Hall, she will be fulfilling the wishes of anyone approaching her. Inside the Town Hall you can visit a presentation of Nativity story as seen through the eyes of the local artist Zmago Modic. On the Christmas Eve you can visit the Christmas concert at Mestni trg, performed by acknowledged Slovenian musicians. From 26th December to 2nd January you can visity various other concerts in Novi trg, Prešernov trg and Pogačarjev trg. The whole city center will host the peak of celebrations on New Year's Eve. There you can expect the biggest crowd and the biggest party. New Year's Eve celebrations are a great choice for visitors of all ages and tastes. Of course, the beginning of a new year won't start without the traditional fireworks display.