SloveniaHolidays.com > Info > Winter and holidays in Slovenia


Slovenian Ski Resorts - Peaceful Solitude and Relaxing Terrain
Winter and holidays in Slovenia
Slovenia is a pure wonderland. Have you ever been to a country where you could enjoy the fresh Mediterranean breeze, in just about hour and a half of driving you could jump in sparkling thermal pools of numerous spa resorts.
However, ski enthusiasts will definitely be delighted about small but fully fitted Slovenian ski resorts. Let me name just a few:Krvavec,Kanin,Vogel,Rogla, Mariborsko Pohorje, Kranjska Goraand many others.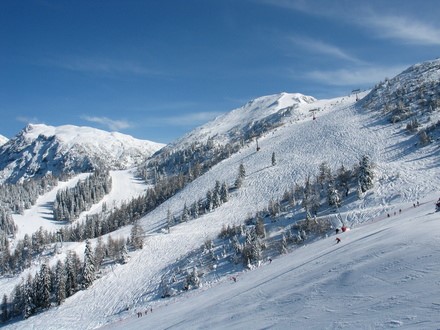 Slovenia`s finest ski resort, situated in Municipality of Cerklje. It is the closest European ski resort to an international airport - Ljubljana Jože Pučnik airport is at 8km reach. This is just 25 km from Ljubljana and 35 km from Bled. The Krvavec ski resort has 30km of perfectly groomed ski runs at 1,450m - 1,971m above sea level, providing an excellent conditions for skiing on natural and artificial snow. Due to the center's location, the skiing season usually starts as early at the end of November and lasts over 150 days until early May.
In 2010 Kanin - Sella Nevea ski resort became the first cross-border ski center in Slovenia. The newly connected Kanin - Sella Nevea ski resort operates with a single ski pass, enabling skier access from both the Slovenian (Bovec) and Italian (Sella Nevea) sides. Kanin hight about sea level is from: 1140-2300 m. The whole ski area covers over 70 hectares. Ski slopes will fulfill the need of beginner level skier and also the most experienced skiers the demand challenging ski terrains. Blue slopes offer 6 km of ski pleasure, red slopes with 22 km dominate in Kanin ski resort and finally 2 km of black slopes for those of you who need difficult ski terrain.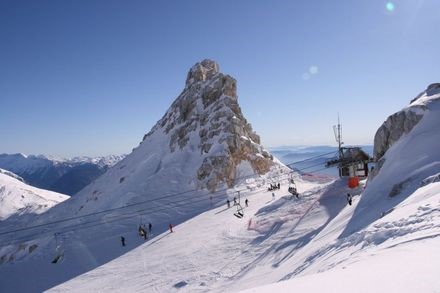 Skiing in Slovenia is perfect for an enjoyable family ski vacation. Try it out for your-self.