SloveniaHolidays.com > Info > National Heritage


Triglav national park with its green, inspiring nature
Located in the heart of the Julian Alps in the north-west Slovenia, the Triglav national park is the only national park and at the same time biggest national protected area. Triglav National Park borders Italy in the west and Austria in the north.
The park was named after Triglav, the highest mountain in the center of the park, which is with its 2864 m also the highest peak in Slovenia. The park covers 880 square kilometers.
The Triglav National Park is among the earliest European parks; the first protection dates back to 1924 when the Alpine Conservation Park was established in the valley of Triglav Lakes. In 2003, Triglav National Park was included in the UNESCO MaB (Man and Biosphere) network. The park was established to preserve the exceptional natural and cultural heritage of the area for future generations.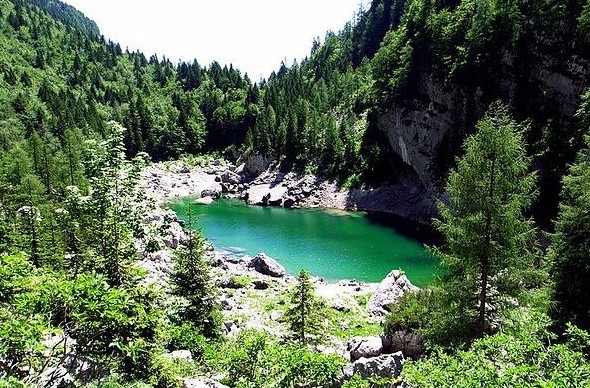 The park is home to many plants and animals. Wildlife includes ibex, marmot, golden eagles and the brown bear, although most animals stay away from humans and animal sightings are rare. Of the plants, the most famous is Julian poppy and the purple Zois bellflower. We should point out that most plants are protected, gathering rare alpine flowers is forbidden.
The landscape of Triglav national park is gorgeous. There you will find pointed summits, charming valleys, waterfalls, crystal clear streams and lakes and two large river systems that have their sources in the Julian Alps: the Soča and the Sava, flowing to the Adriatic and Black Sea, respectively. When in the Triglav national park, you should visit at least few natural treasures, some of them are listed bellow:
Vintgar Gorge
Lake Bohinj
Pokljuka Ravine
Savica Waterfall
Peričnik Waterfall
The Source of the Soča River
Kluže Fortress
Mostnica Gorge
Church of St. John the Baptist, in Ribčev Laz
There are many things to see and do. Park is also popular for its outdoor adventure possibilities. Many of the outdoor adventure agencies based in Bled run sports-based excursions to the park. If you want to go rafting, canyoning or kayaking, all those sports activities are possible on Soča River.