SloveniaHolidays.com > Info > National Heritage


Experience The Magnificence Of The Postojna Caves
If you can take a trip to Europe there is one destination that you must visit, located in Slovenia, which is east of Italy and south of Austria, is the city of Postojna. Travel to this city offers many attractions, including the most magnificent cave in the world, the Postojna Caves, also called Postojnska Jama.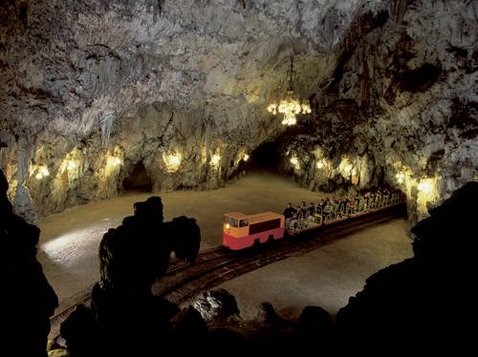 This famous cave boasts the most beautiful formations and abundant wildlife of any one like it in Europe.
Magnificent stalactites and stalagmites of many colors and dozens of configurations are found in every area. Many of the structures are found in no other cave in the world. It is also known for the indigenous wildlife that can be seen by visitors, including the human fish or Olm, which is really a light pink salamander.

This site has been a tourist attraction since the mid 1800s, with a sophisticated lighting and rail system. Touring is done with a guide, some by foot, and some by train. There are no strenuous trails or stairs in this tour, so it is suitable for all. The temperature underground remains consistently 8 -10 degrees Celsius, so be sure to dress warmly for the tour.

Postojna Caves also offers unique group tours and adventure packages. There are several team-building activities offered for visiting groups, which bond people both mentally and physically. There are adventure packages sold as well, for those that wish to test their endurance in an environment vastly different from any other.
A visit to the beauty of Postojna is a must for the European traveler.
There are many other visitor attractions in the area, but the Postojna Cave is by far the most spectacular of any. Upon entrance inside the opening, signatures of visitors to the cave since the 1300s can be found on the wall. Not just a splendid beauty, this experience offers a glimpse into the natural history and evolution of the earth itself.