SloveniaHolidays.com > Info > Culinary experiences


Mission: Pizza
Not that I am a huge pizza fan. If I had to choose between a pasta and pizza I would choose the first. But every now and then I gladly have a bite of pizza too. Which is my favourite? I like to keep it simple and healthy- fresh tomatoes and basil, a bit of mozzarela cheese and some olives. Just as the original pizza as we know today according to the story was like. I don´t like the classic ˝ham&cheese˝, but this is just my taste as the majority of you probably love it.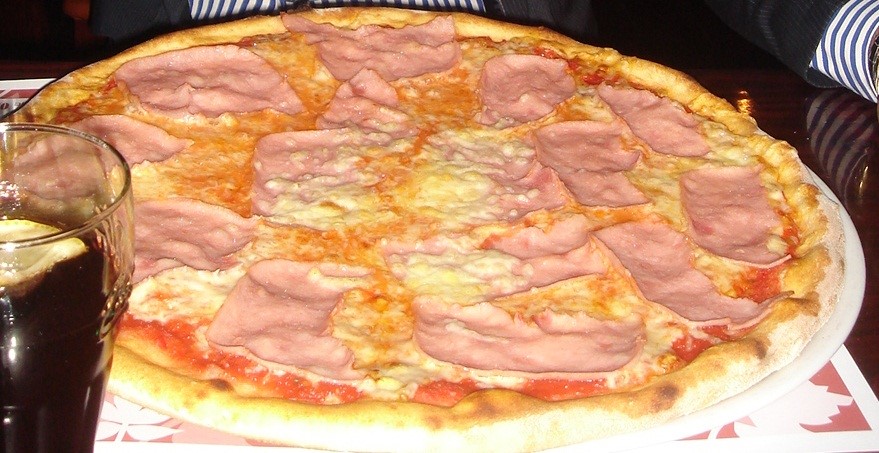 ˝The ham&cheese pizza has many fans¨, Foto: Lana Švab (2012)
So the other day I was thinking where to dine, it was one of those days when you are too lazy to cook an egg. Perfect day to have some oldschool pizza. After doing some research which pizzeria is opened on Sunday evening, I decided to go for the renowned pizzeria Foculus right in the city center of Ljubljana. Even if the staff there used to be quiet unfriendly some years ago(yes- last time I had a pizza there was some years ago)this time I came across two friendly guys working there. As I entered. I could smell the perfume of freshly baked pizzas out of the bread oven.
At Foculus they sell pizzas of two sizes, small and large, but trust me- you are safe if you order a small one. I actually could not finish mine even if it was just the way I like it. It was calledVirgin pizzaand was made with fresh tomatoes, basil, black olives and mozzarela cheese. The bread was crispy and not too thick, while fresh basil and olive oil gave a special aroma.The bill in the end?For two pizzas (large and small), two cokes and a glass of red wine for me (I always drink wine with pizza) the bill was 18€. Pretty decent, isn´t it?
˝The interior of pizzeria Foculus˝, Foto: Lana Švab (2012)

If you ask me what other places in Ljubljana I would recommend for having a pizza, I would say pizzeria Trta (close to center, by the river banks direction Prule) but they are closed Sundays.

In thePrimorska regionI would recommend pizzeria Rustika in Portorož as they make a very good pizza with bresaola or pizzeria Primavera in Izola and Koper.
In theGorenjska regionI had a pizza at Rustika at the lake Bled and inŠtajerska region(Maribor) I tried a pizza in Pomodoro. Both of them were good, just that I prefer less on the pizza and thiner bread. But again- it depends on the taste.

To those who are familiar with Terme Čatež, I would recommend to visit pizzeria Racman in Brezina (app. 15 min drive away from the thermal spas) or pizzeria Fontana in Krško (app. 30 min drive away from the thermal spas).
So this is the complete list of the pizzerias i visited and more or less liked. What about you? Which is your favourite pizza place in Slovenia?