SloveniaHolidays.com > Info > Cities to visit


Bled Attractions Travel Guide
Located in the northwestern region of Slovenia, Bled is a popular tourist attraction for visitors seeking a getaway vacation in a quaint and historic town.
With a population of just over 10,000, the municipality draws plenty of tourists because of its unique location. The town is situated within theJulian Alpsand along theBlejsko jezero(lake), which make it one of the most picturesque communities in Slovenia. AnyBled travel guidemust mention the town's most popular attraction, the Bled Castle. Located on cliffs along the lake, the medieval castle offers panoramic views of the lake, surrounding forests, and the entire town. Within the castle there is a museum, wine cellar, display of printing works, and even an upscale restaurant. The castle is the highlight of the all Bled attractions. The truth is that the landscape is part of the local attractions. Tourists can enjoy the spectacular views by completely hiking around theBlejsko jezeroin about an hour.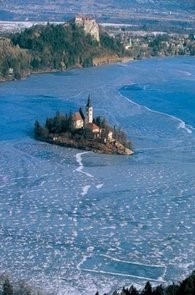 Accommodationsand transportation are important features of a Bled travel guide. The small town is accessible by train via the local Bled-Jezero station. There is also a bus station at Cesta Svobode and Grajska Cesta streets. Visitors can connect to Ljubljana (country's capital) using such transportation. The town is so small that all Bled attractions and facilities are within walking distance from each other. For example, the Ljublanska Cesta Street is a main road that includes most of the local hotels and restaurants. Guests can choose from local inns or something more familiar such as the Best Western Premier Hotel Lovec.