SloveniaHolidays.com > Info > Cities to visit


Ljubljana, small and charming
Ljubljana is the capital of Slovenia, it's a charming and also remarkably safe city during day and night.
The Ljubljanica River flows through the city, its banks lined with promenades, cafés and small shops. There are boat tours on the river, which leave just across from Prešeren Square on the old town side with guided commentary on some trips.
Ljubljana is small enough that you will be able to walk everywhere in the centre. You can pick up a free city map at a tourist information center or in the train station.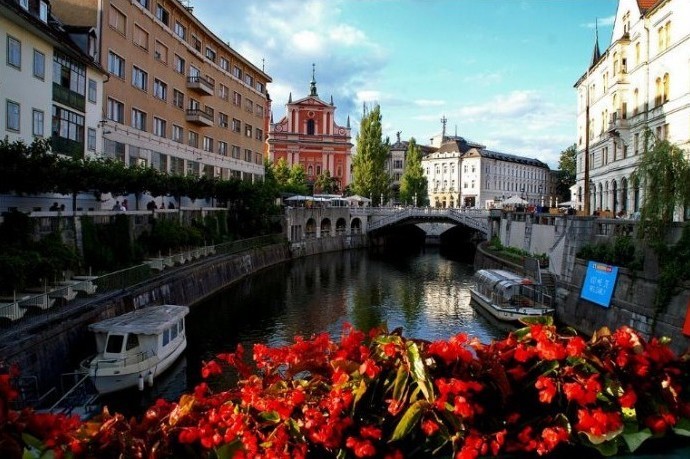 Ljubljana Castle is the main attraction for visitors to the city. There is a tourist train up here from Prešeren Square, as well as a modern funicular from Krek Square, but a better option is to walk up the steep slopes. The tower has magnificent views all over the city. You can also see the Sava River and Kamnik Alps in the distance.
Prešeren Square is at the very heart of the city both historically and spiritually. Here, you can see the statue of France Prešeren, Slovenia's greatest poet. Cross Ljubjanica River and turn left for Open Market and the Dragon Bridge, guarded by four detailed dragon statues, which have become a symbol of the city. Look out for the dragon motif throughout the city.
Old town, on the eastern side of Ljubljanica River and bellow the Ljubljana Castle has the city hall, monuments, and well-preserved old buildings and churches. On the narrow streets surrounded by medieval houses you will discover interesting squares, lanes and buildings. Here are also located local designer shops, and several popular cafes and restaurants.
Downtown Ljubljana is full of trendy cafes and high-quality restaurants. You can find local Slovenian food, and restaurants with ethnic food from many places around the world.
If you feel like visiting museums, we recommend Architecture Museum of Ljubljana, National Gallery, Slovenian Museum of Natural History or National Museum for example.
Park Tivoliis the main city park. You can sit down on a park bench and enjoy the sun. Or you can visit the ZOO, small but also charming.