SloveniaHolidays.com > Nova Gorica > Excursions Darturing


Excursions Darturing
Cankarjeva 62, 5000 Nova Gorica

tel.: 00 386 5 333 45 11, 00 386 5 333 45 10, GSM: 00 386 41 727 779, 00 386 40 626 640, faks: 00 386 5 333 45 11,
www: www.darturing.si
Discover the hidden pearl along the emerald river – Kanal ob Soči
Program for groups (with their own bus or with train)
Discover the hidden pearl along the emerald river – Kanal ob Soči

We want you to meet the hospitable locals who live, create and breathe withtheir town, we want you to experience our town during your visit with all the senses, so we invite you to join us: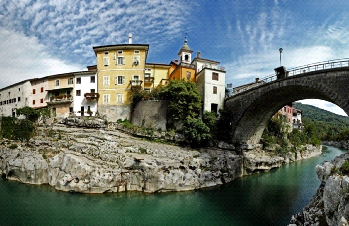 Kanalski most, foto: Mitja Madon
Arrival in Kanal and meeting with the local guide in the center of Kanal or at the historic railway station.
We'll take a walk around the center of the Medieval settlement, we'll see the preserved defense towers, church of Mary's Assumption,the square Kontrada, the beautiful Kanal stone bridge and exhibition of local inhabitants organized in the windows of their houses.
We will taste the products of local beekeepers and herbalists, we will have the possibility to buy
art products made of ceramics and Soča pebels,we'll learn the story of mysterious fllute called kabrca.
We will visit the gallery of local painter Riko Debenjak, we'll walk through the defensive tower and gothic house where the gallery is situated.
We'll meet the manufacturer of traditional metal carnival masks from Lig.
We'll stop at the local dairy farm, taste the genuine products and get the possibility to purchase them.
At the historic railway station, an enthusiastic collector will present us Kanal during the First World War and invite us to visit his collection of military memorabilia from this period.
We will walk to the scenic point from which you will have the best view of the famous Kanal stone bridge.
Free time for lunch or snack at our local restaurants or a piece of cake in the local pastry shop (reservation required for group meals).
The duration of the program is 4 hours.
Price per person:
9 €/ 40 - 50 participants
10 € / 30 - 39 participants
11,50 € / 20 - 29 participants
12,50 € / 15 - 19 participants
16 € / 8 - 14 participants.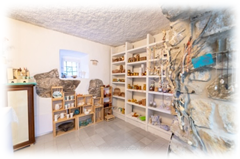 Prodajni atelje GalNAtural foto: ZOSO
Included in the price:
local guide for 4 hours,
tastings of local homemade
products,
insurance of participants,
organization and VAT.

Not included: lunch.
After lunch break we recommend that you follow our guide (for an extra charge) for:
- walk through the beautiful park Pečno
- sightseeing of the artificial lake at Kanalski vrh (own transportation)
- visit the Beekeeper in Kal nad Kanalom with tasting of honey and different bees' products. Possibility to organize also tasting of dry meat products
On kanalski Kolovrat (own transportation):
- visit of Lukčeva hiša house and cook traditional local dishes with the owner
- visit Lig and one of the three famous Saint Mary's sanctuaries - Marijino Celje
- visit of the local wood carver, sculptor and collector in Melinki
- visit of Britof village with the church of Saint Cantianus and a beautiful triple-wing altar
- if you'll get hungry, we can organize lunch or dinner at local restaurants.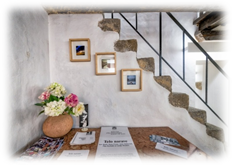 Galerija Rika Debenjaka, foto: ZOSO


Reservation is required. All information and guides are provided by: