{newsletter}
Weather
Wed 5 / 13
Thu 9 / 16
Fri 7 / 14

SloveniaHolidays.com > Slovenia coast


Slovenia coast
Presentation of the destination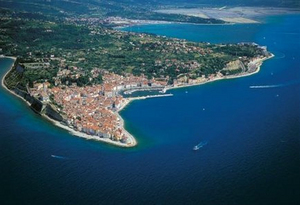 Slovenian coast

The sea shore with its lush evergreen vegetation invites you for an active holiday. The tourist resort Portorož is the central Slovenian seaside resort with a rich hotel and tourist offer. The thermal baths of the hotels Palace have been practicing the spa tradition for 700 years already, and the aerodromPortorož offers interesting panoramic flights.

Piran, Izola and Koper are three ancient coastal towns, each revealing the lives and the spirit of past centuries in its own way. The sights worth visiting are especially the cathedral churches, palaces, narrow streets, squares with numerous stone-cutting details and green cypresses.
Koper is today an important port, as well as the cultural, administrative and university centre of Primorska.The central architectonic monuments include the Pretorska palace, the Gallery Loža Koper and the cathedral.
Izola, the place in the Simon Bay, has a rich fishing tradition, where the remains of the sunken Roman harbour can be seen at low tide.
Piran with the mighty cathedral of Sv. Jurij is today under monumental protection due to its outstanding architecture. The town also hosts the Marine Museums and a Marine biological station. In the bays near Sečovlje there are ancient, at least 800 years old saltworks, protected under the Regional Park Sečovlje, and a renovated house of a salt worker hosts the Etnographical Museum.

The lagoon area in the Strunjan Bay with the abandoned saltworks and the Strunjan Cliffs is part of the Regional Park Strunjan. But Primorska is not just the coast, it is also the hinterland. The Istrian wine road connects places and their sights: Hrastovlje with a church behind the camp walls and frescoes with the motives of the dance of death, Črni Kal on the karst edge with a leaning bell tower, Osp with a picturesque overhanging rock, a castle in a cave, and much more. The area of the forested Brkini marks but the last borders of the Mediterranean Slovenia.
Sloveniaholidays recommends
---