SloveniaHolidays.com > Highlighted contents


Franja Partisan Hospital

Once more Franja Partisan Hospital, Dolenji Novaki near Cerkno!
Open every day 9:00-18:00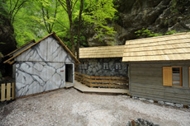 The Second World War was one of the most difficult trials for mankind. Like other freedom-loving nations, the Slovenes also organised themselves to struggle against fascism and Nazism.

Clandestine hospitals were a particularity of the Slovenian resistance movement. They were built in barely accessible forests, gorges and underground caves. They saved lives in circumstances that are hardly imaginable today. Following the capitulation of Italy in the autumn of 1943, the barely accessible Pasice gorge in the village of Dolenji Novaki was selected as the site of a new hospital in the Cerkno region. With the devoted assistance of local inhabitants, the hospital was constructed gradually until the end of the war, when 14 wooden cabins and several auxiliary facilities were squeezed into the bottom of the hollow alongside the Čerinščica stream. Already during the war, the hospital was named after Franja Bojc Bidovec, a partisan physician who administered the hospital for the longest period of time. 578 severely wounded persons were treated in the central facility, today known as the Franja Partisan Hospital, and about 300 wounded persons were treated in other dislocated units. Among the wounded were, alongside Slovenes, also members of former Yugoslav nations and the nations of the Soviet Union, Italians, Poles, Frenchmen, two Austrians, and two Americans.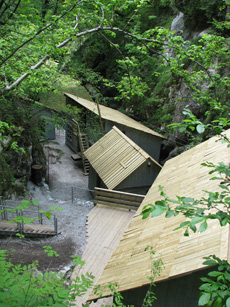 After the war, the Franja Partisan Hospital became a symbol of the partisan movement and its widespread and extremely well-organised medical activities. After the disastrous flood that occurred in September 2007, the monument has been reconstructed almost in its entirety. Based on previously prepared drawings and documents, the cabins and auxiliary facilities were restored, copies of objects were made, and substitute specimens acquired. In its reconstruction we were guided by the desire to preserve for the public, to a maximum extent, the message conveyed by the monument and its symbolic value.


The Franja Partisan Hospital is a cultural monument of national importance, is entered in UNESCO's Tentative List of World Heritage, and bears the European Heritage Label. Despite the loss of authentic tangible heritage, it has remained a symbol of international alliance and resistance, and above all a precious reminder of humanity, nobleness, and comradeship.


Info:
Franja Partisan Hospital
Cerkljanski muzej
Bevkova 12, 5282 Cerkno
Telefon: +386 (05) 37 23 180
E-mail

GPS:
N 46°9'13.32''
E 14°1'44.11''